In the ecommerce business world, people are using websites to find their online products. Based on a survey, 30% of visitors come to a particular store by using websites in search engines. This shows that the usage of websites is increasing along with ecommerce businesses.
Creating a website for your business is the first step in running an online store. Your online store will be searched by your domain name or by your website.
Verticals of Ecommerce Web Development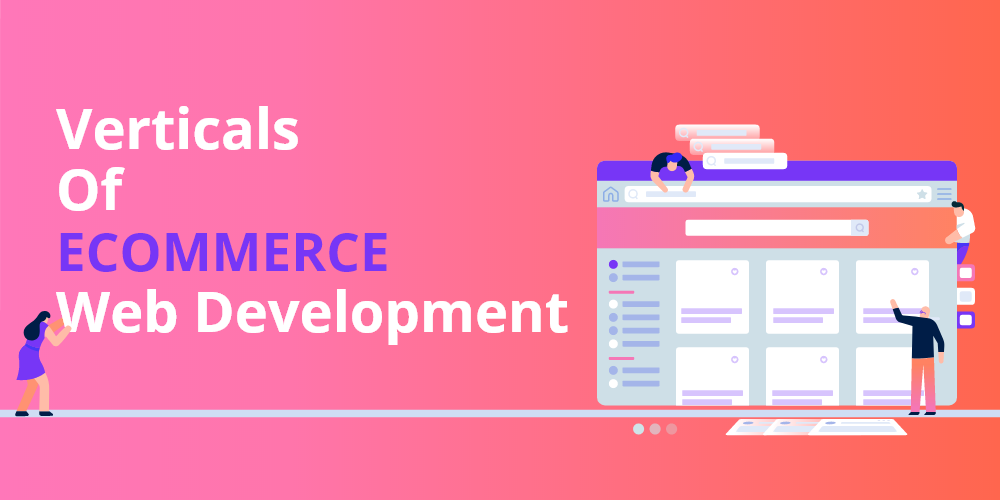 The verticals of ecommerce business tell about the features and strategies of online shopping. On developing a website for your business, you should know about the verticals of Ecommerce web development which are totally six in terms as mentioned below:
Web Stores
B2C & B2B Marketplaces
E-Auctions
Online Shopping Carts
Social Commerce
E-Procurement
Let's discuss the verticals in detail:
1. Web Stores:
Web stores also called online stores are the identity of your business. You have to create your online store with the availability of a secured payment option and also it should have a catchy name, which will entice more people. There are some important features to be noted when creating your web store.
Content:
The content or niche is an important feature to analyze while creating your website. The niche will act as the keyword that helps to find your website more quickly and easily.
Domain and Store Name:
You should be very careful in creating a domain name as the store name and domain name will be very important because they will make the uniqueness of your store.
Navigation:
The website you created will only show your web content. You don't use unavailable links on your website. Because when people searching for your store and they find improper navigation, they will stop searching for your store.
Easy Process:
You can make the work process of the consumer as simple as possible, so it can make customers to select the product easily.
For example, Ratio Coffee is a beautiful web store who is providing good food and drink products. It is designed with a pastel colour palette which is attracted by the consumers.
2. B2C & B2B Marketplaces
In B2B (Busines to Business), the business (either products or services) is done between two companies through an internet sales portal. Most B2B businesses have complex ordering processes. Instead of processing orders manually, the ecommerce orders are done digitally and it is used to increase the efficiency of the companies. Because multiple people are involved in a single deal, they are responsible for discovering the right products and make the right deals with resellers. In simple, manufacturers selling products to distributors or retailers. For instance, as everyone knows about Alibaba firm, which is a B2B company.
Well, in B2C (Business to Consumer), the business is done between Vendors and Consumers without any interaction of humans. The sellers sell their products or services to the buyers. The main strategy of the B2C model is to attract many customers by promoting their products. This activity exists in both online and offline. However, financial transactions are done online. Also, to keep in mind, the C2B (Consumer to Business) is a reverse form of a B2C model, where consumers offer goods or services to companies in exchange for an amount. Also, Taobao which is the world's largest ecommerce web solution being a B2C organization providing all types of products to the consumers. Another popular example of B2C is Amazon.
3. E-Auctions
The Electronic Auction(e-auction) is the e-business done between auctioneers and bidders. It includes Business to Business (B2B), Business to Consumer (B2C), Consumer to Consumer (C2C). C2C is a type of business model where consumers can trade with each other. E-Auction is a method of promoting your business by bidding your products in the auction online. There are many components to make e-auction success:
Understand the strategy
Be sure to understand the strategies of the e-auctions for lowering costs and clearly know the best practices to improve the process.
Invite all potential suppliers
Do not limit the suppliers because sometimes the profit comes from new suppliers with efficient production costs and innovative production technologies.
Legibly document all requirements
Good documentation is the key feature for a successful project. So, produce clear documents to avoid the misunderstandings of the terms.
Make a Q&A segment
Don't think that e-auction is a simple process and train yourself to make the best because it is a new tool and become a business paradigm for other suppliers.
Monitor auction and try to provide better security
Maybe the problems will arise between buying organization and suppliers. It's important to monitor the process to run e-auction smoothly.
eBay, the multinational e-commerce corporation is the best example of the e-auction process. You can buy and also sell products in these types of websites.
Our dedicated development team in Infinijith Technologies develops a top ecommerce solution that includes unique auction sites for your stores.
4. Online Shopping Carts
An online shopping cart is a piece of ecommerce software where the buyers are invited to a website to choose products for purchase. The shopping cart is allowing consumers to accumulate a list of products for purchase in an "add to cart" option. This option will be helpful for buyers to remember the wish list of products in the future.
The shopping cart needs to acquire the payment details of the consumers. For example, credit card details, etc are protected by the shopping cart software. They rely on the software module of the secure gateway provider to make a secured online credit card transaction.
There are mainly two components in a shopping cart like:
Storefront
The storefront is the area visible to the buyers where the products are categorized and dynamically changed by the store owner and shopping cart option is available to store the stuff.
Administration
The admin area is the place for the stores that will able to make changes in the store. The admin can manage all the activities of the online store including payments, changes in categories of products, etc.,
5. Social Commerce
Social Commerce is the sub-element of ecommerce and it involves online media where you can promote or market your ecommerce products in social media like Facebook, etc. The social commerce is useful for shoppers to get precise knowledge about the products, and find good stuff to purchase.
The social commerce lies in existing customers' user experience and also about reviews and recommendations of the products. This will aid new consumers to buy the product.
The social commerce has some elements that you need to know:
Reciprocity
If you provide offers or daily big deals to the customer, they will feel the need to return the favor in terms of shopping again and giving good suggestions about your online store.
Community
You can create a community in social media as when many people rely on the same products, there is a chance for gaining new customers. The new consumers are also likely to follow the community if it is valuable.
Social feedbacks
To get positivity about the store, you have to accept the positive and negative suggestions from the buyers and try to improve the quality. The existing user's comments will be a proof for new buyers. Hence, you have to maintain the positivity.
Scarcity
If you sell a product like highly demand stuff, special and unique things, the consumers will have trust in you and you can gain a lot more buyers. Examples of Social Commerce are Amazon, Flipkart, and also some social sites like Instagram (where you can set your own business page for giving the business updates)
6. E-Procurement
E-Procurement (Electronic Procurement) aka supplier exchange is the business services through an internet which includes B2B, B2C, C2C purchases.
This e-procurement chain consists of vendor management, catalogue management, e-auctioning, shipping notice, e-purchasing, e-tendering, etc.
Catalogue Management
Here, this management has a strategic process that starts when the suppliers distribute the products electronically and the buyers can easily procure the products electronically.
E-purchasing
E-purchasing is mainly targeted for the procurement of goods which are low in price but high in volume.
E-tendering
It is opposite to e-purchasing as it used to enrich the tendering process of goods and services in a low volume but with a high price.
You can have all the CRM (Customer Relation Management), ERP (Enterprise Resource Planner), order processing system in your online store.
To understand this concept, see this simple example. Consider a company A who is depending on company B for all raw materials needed for their product. Now the data about the material will be passed through the Internet which should be secured. Hence, by creating applications for the security of data, it is easy to pass information between company A and company B which lies in the e-procurement process. This method will be helpful in getting high efficiency, transparency, equity of the local business.
Thus, by learning these verticals of ecommerce, you can create your own online store with our model-specific solutions that help you to run your ecommerce business successfully.