Are you in the plan of starting any business related to online services? Do you have sufficient investment for it? If you have money also it doesn't mean you can invest in useless things or something impulsively.
You should invest money mistakenly and think about making sure about the success of your business idea?
But how can I say a business idea is not working out without even trying. Good question, the answer will be adopting Minimum Viable Product (MVP). So, first want is this MVP.
What is the MVP and what is MVP App Development?
Minimum Viable Product, MVP from the word indicates there is only a minimum of everything.
Whatever it be product like and/or app and/or website is created with minimum features and is checked for its success. If the product can reach the audience successfully, then additional features are added to it.
Is it easy for anyone to build an MVP then how? Full-stack developers are one who can make your dream into reality by building MVP for you.
The Minimum Viable Product (MVP) is the one which smallest of your dream product and features with the least option that is exact delivers your product and demonstrate the function in much more simple worlds. From the pool od MVP development, you get to know the full usage of the new product and also facilitate you to learn and collect your customer base. It is the easiest way to learn about your product performance.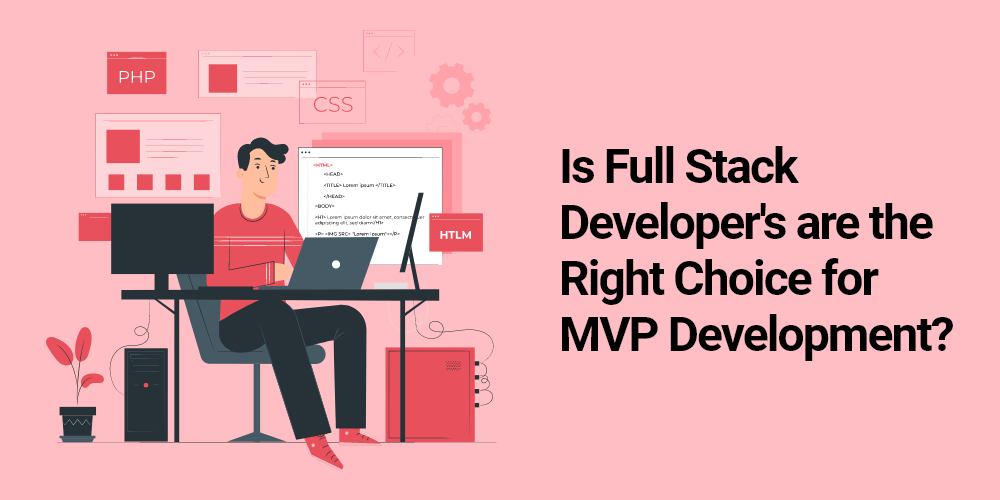 For mobile applications, MVP development is the basic version that the developers develop for you. After a series of iterations and feedback from early versions, the actual product is developed. In MVP only the core functionalities are built.
MVP even helps every state of development phase form testing, designing to delivering the final product. Sometimes you may lose the way in building the MVP, so it is important to find the right process method before proceeding.
Needed for MVP
MVP development is one of the most important faces of your project development. It services a different purpose as follows:
* Launch a product quickly over your idea.
* Ensure your Idea within a small budget
* An approach to collect users' feedback for the original product
* Make the features reliable.
* Figure out the right audience.
* Test the hypothesis by minimizing errors.
MVP development leverage the right balance between what your business is offering to users, and what users need.
Business Benefits of MVP Product Development
Have you ever thinking if nobody wants to buy your product? Are you wondering about the time and budget constraints?
To survive in today's competitive world, you need to release a product faster and within a budget is a prerequisite. You can cut-short your budget and preserve your timing by using MVP. Here are some benefits of using MVP in your application:
1. Building Core Value of the Project
Unlike a whole application, MVP doesn't focus on every aspect of the application. It just only concertation on the core concept of the application and negates the rest of the functions.
With the help of a lean startup approach, MVP builds a product within a given time and budget. Since extra features and functions are removed from the application it can reduce the cost of mobile app development. And in the MVP development approach test is made easy, that is you can test can be conducted with minimal risk.
2. Remove the bugs early
It is better to correct yourself before investing in your idea.
3. User Intelligence and Feedback Gathering
One fine thing with MVP is you can find out your potential users' opinion and it will give you the option to figure out how users want to see your final product.
4. Allows Market Validation
Sometimes an application may be useful but it doesn't help your target market to solve the problem. For example, if your application about offering medical services for elders but if your application is not user-friendly to them then your app is a failure.
Additional market validation creates the brand well to the users by showing them how your project is unique as compared to others in its category.
5. Finish your product on time
Since it only develops core functionality thereby it reduces the development time and app development costs. If you launched on time you will get feedback quickly. It also allows you to the improvement of your app, and release an updated version quickly.
6. Budget-Friendly
After developing MVP, you can avoid spending all of your resources right away, on things that may not work. It helps you in providing actual products and improvises the application.
There are many studies shows very few apps are downloaded out of many available on play store and iOS store because of issues in their user interface and poor performance. With MVP you can avoid this and enhance the mobile development strategy.
Why you must have an MVP Development:
* Crafting an initial model: MVP gives a starting point for your idea. It extends to discussions and offers clear visual points of reference for the application.
* Idea validation and approval: You can build and test some of the functionalist with users. It gives you a better understanding of the issues you may face with your innovation.
* Preparing to begin your journey: It allows you to take a confidence step into developing your dream project.
Before starting MVP, you needed to understand the whole idea of application to build an MVP. This can be in two following perspective:
Business and Marketing: With MVP you can launch a survey easily to find the best marketing approaches. With these approaches, you can use it for the advancement of your product.
Proof of Concept: It is easy to execute important programming and designing features once you figured it out in MVP. It turns your app unique.
Methods of Building MVP
You have two options for developing the MVP for your Application:
Hire a Full-Stack Developer - you have a pool of developers in the market with quite well in this development. Build on your own- You have the confidence you can build your MVP
Why not hire Full stack developer who can take complete responsibility for the complete project and deliver the world-class product with their experience behind it.
Full-stack development combines both frontend and backend besides creating the database and connecting it all. Here is some guild for you on how full-stack developers can help you in developing your MVP.
What is Full Stack Development?
Generally, Full-Stack web development is a combination of front end and back end development.
In that front-end development focusses, more on client-side development on the other side the back-end focusses more on server-side development. But, for any to become a complete and professional full-stack developer, additional knowledge about JavaScript, CSS and HTML would be very useful.
But the question many arise on why to uses full-stack developers for MVP development. Go through our Guild to catch why you needed to prefer full-stack developers for your MVP product development.
Why to Hiring Full Stack Developers for MVP Product Development
Mostly all the full-stack developers are the specialists of all-round the corner. They offer in-depth experience and understanding of the various elements relating to the application development and know best, which is the ideal process to furnish the project requirements.
With their knowledge, they can conclude whether your app idea is feasible or not and also offer their valuable recommendations on how to better the project strategy.
1. The advance of both front-end and back-end development
A full-stack developer is proficient at both front-end development and back-end development. This enables him to easily shift between the two sides; the client and server and vice-versa.
Hire a full stack developer who will never conciliate with the quality of the product and always prefer to remain updated with the latest technologies.
Whatever be the process such as MVP app development, MVP product development, or MVP software development front-end developer knows of the results and what issues may arise.
2. Develop design structure as well
As a full-stack developer, they may know well about MVP development processes. They know exactly how to deal with the codes and the User Interface designs. It is full-stack developers who are all-in-one package for an MVP development company.
3. Handles the project responsibility
If you are outsourcing the development for an MVP development company, they pass the responsibility of the project to the full stack developer.
Only full-stack developers are responsible for the MVP development from start to the end. You just discuss your idea the rest they will take care of Either MVP app Development or MVP software development they will understand right from their experiences.
4. Cost-effective of hiring full-stack developers
Appointing a full stack developer for the MVP product development is going to be cost-effective and you should mainly look further on getting one if your budget is less. Since you do not need to hire an individual expert like developer or designer separately for doing the MVP development project it reduces the cost of development.
5. Project on-time
The full-stack developers may work as a team or in a group. This makes it rather easier to distribute the work responsibility among each of the individuals and they can coordinate well to produce the best result. Hence, this also results in the fast completion of the project.
6. No worries about maintenance and update
As the full stack developers are well familiar with the latest techniques, maintaining and updating the Minimum Viable Product gets simplified, which increases the possibility of getting good and positive reviews from the potential clients.
7. Adhere to customer delivery schedules
Teamwork has been a strong plus point for full-stack developers. This makes it rather easier to divide the work responsibility amongst each of the members and they can coordinate well to produce the required result.
8. Excellent customer relations with after-sales support
With full-stack developers fully aware of the latest updates and technologies, the process of maintaining, and updating the minimum viable product gets simplified. This increases customer's confidence which can result in good reviews and growth prospects.
Conclusion
If you are fully self-assured about your start-up idea and willing to give it a go, you may outsource your project to an experienced MVP development company like Infinijith.
For your MVP product development, you can prefer full-stack developers who agree to work on your terms. Infinijith develops your MVP product with experts to avoid failures and help you to launch it successfully. It also saves you time to do other elements for your startup like creating the brand, marketing and analyzing business ideas.