Unless technological advancement hits a roadblock, the need for outsourced talent will continue to rise in the field of software development. Whether it is a complex mobile app or dynamic ecommerce site, you can hire dedicated developers to come up with great results. It is almost similar to software outsourcing though slight differences exist.
With a dedicated development model, you'll have full control over the process, while staying mobile in business decisions. As such, dedicated developers are significant in the software development landscape. Here are some of the major benefits and advantages of hiring a dedicated development team that is discussed below to make you better-informed.
6 Benefits of Hire Dedicated Development Team for Your Project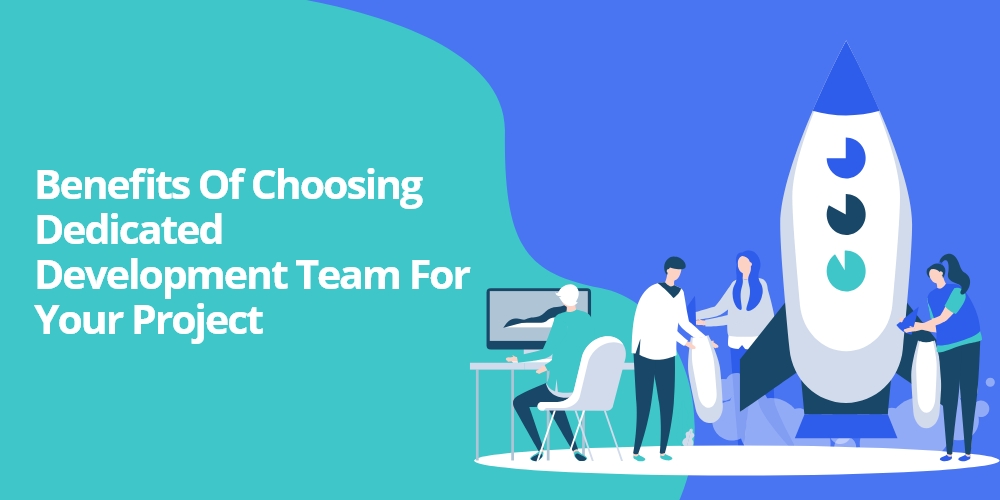 1) Skills and Expertise
When it comes to your in-house development team, they lack exposure in working with various projects. They have their limitations in terms of broad expertise and skill. For this reason, you are seeking outside help by inviting a dedicated development team to take care of the new project. You choose a certain team only after accessing their broader skills, expertise, and experience handling similar projects. Therefore, whatever you plan to produce – a website, a mobile app or a game, you will be offered with undivided attention from the dedicated development team. Moreover, you are 100% certain that they are going to deliver.
2) Flexible and Affordable
Nowadays, countries like India have a very good reputation in IT services with a deep talent pool. This makes IT companies seeking immediately these talents to help them enhance their deployment needs and provide an optimal end-to-end solution for the dedicated development team model. Thus, when you do offshore outsourcing, you can save a lot of money.
Also, the biggest advantage of hire dedicated web developer is with the flexibility they bring to the table. They will be working exclusively on your project. Therefore, you can consider them as an extension of your in-house team. In terms of payment, it is based on the number of hours or days they put in the project. As a result, you can alter the size of the team depending on your needs.
3) Established Infrastructure
Any web development project would involve a substantial cost on hardware and software. While most web development projects don't require any special hardware but you would still need to spare a workstation for your in-house web development teams to work on. On the software front, most of the tools may be open-sourced but you still need to invest in designing tools such as Photoshop to get the best results. When you hire dedicated mobile developers, you have to incur no such costs as it will be taken care of by the offshore development company.
4) Additional Support and Service
As far as the success of a website is concerned, it is not just about launching a great website. There are plenty of other factors that play a major role. Social media marketing, content marketing, search engine optimization, etc. are extremely important to ensure your website's success. Thus, you need plenty of other services too from the dedicated team. So, when you are hiring the services of a reputed offshore IT company, you can also expect to get a range of additional services like digital marketing to boost your online presence.
5) Reduced Turnaround Time
Improving productivity and reducing turnaround time are the best things about working with a hire offshore dedicated web developer. They have all the resources they need to deliver the project on time. Hence, they offer the best quality output, within a really short time span.
If the project is a collaboration between your IT team and the offshore development center, everything can be planned in such a way that there is always someone working on the project around the clock. This will lead to shorter timeframes throughout the project lifecycle.
6) Guaranteed Results
The dedicated development team follows the best practices like agile scrum methodology to develop products. Similarly, when the team has proven experience in developing similar projects, you rest assured about the outcome of your project with guaranteed results. When you hire dedicated developers, you get ready to use infrastructure, you save office expenses, hiring costs, training- onboarding costs & other legal obligations, thus the overall production costs come down. The dedicated team includes only a hiring cost of the team. Hence, you save on any long-term commitments, liabilities or cumbersome contracts.
If you're looking for dedicated tech talent, growing beyond your local capabilities, you can leverage our dedicated development services that have flexible engagement models. At Infinijith Apps & Technologies, we offer dedicated development teams for a wide array of industry verticals catering to all kinds of businesses from start-ups, medium to large-scale enterprises. That being said, get in touch to have access to our teams' broader skills, knowledge, expertise and solution to develop your products.