In today's competitive world, roughly, 80% of the world's largest companies depend on the offshore development team for their business activities. India has the highest number of offshore development teams as the country has a good reputation for IT services due to its skilled labors working for a reasonable cost.
As technology flourishes, the need for expert development team will be in great demand. So, hiring the right dedicated offshore development team that satisfies your expectations with the required skill set is quite challenging. You will be overwhelmed with a huge number of offshore development teams and services to choose from.
Whatever you are planning to build, whether it is a website, mobile app or eCommerce application, hiring the dedicated team will bring guaranteed results for your project. However, this tactic requires the know-how of different types of engagement models and the benefits you derive from choosing the dedicated team.
Want to know what are these engagement models and benefits?
3 Effective Engagement Models for Business Growth
Substantially, the types of development teams fall into three main categories based on the engagement model. From those, you can choose the apt model as per your project demand.
1. Hourly:
Hourly is the shortest engagement model, where you can hire developers on an hourly basis. In this model, you have to pay the developers at an hourly rate that has been agreed upon. The rate will be inclusive of all resources working on your project. Hence, it ensures full dedication from the team.
This model can save you a lot of money if it is chosen in the right way. Because you are paying the development team only for the amount of time they worked (price per hour), instead of paying for the whole day.
That being said, there are certain challenges to be tackled in an hourly model. For example, you may not know the full potential of the developers due to the short engagement time. As such, you can't give them the necessary training required to begin with the project.
2. Monthly:
If you know the exact time duration for the project completion, you can hire a dedicated development team on a monthly basis. For instance, web or mobile applications with minimum functionalities require just two months for completion. Therefore, for cases like this, choosing the monthly engagement model provides you with a lot of benefits as discussed below.
You can make an agreement with the development team on a monthly basis keeping in mind the project's completion date.
The engagement between you and the offshore development team will be increased and you can access the skill sets of individual developers and their expertise.
Once you access the offshore developers' skills and expertise, you can rest assured that they use the right technologies to come up with innovative concepts.
3. Long-term:
When it comes to a long-term engagement model, you will be having a mutual tie-up with the dedicated development team and they will be exclusively working for your project. Unless hourly and monthly model, where they work for multiple assignments, developers will work stress-free in the long-term model, so you can get the maximum out of their work.
Here are some benefits you will get from the long-term model:
Making a long-term agreement with the development team ensures that your project won't be having any temporary interruption even if any of the developers quit the work due to some unavoidable reason.
You can get to know the success rate of dedicated offshore developers working for your project. On that account, if there is a need, you can collaborate with them for your future project as well.
The dedicated development team will take complete responsibility for the entire project from financial security to data security, so you don't need to worry about any of these aspects.
4 Tips to Hire a Dedicated Development Team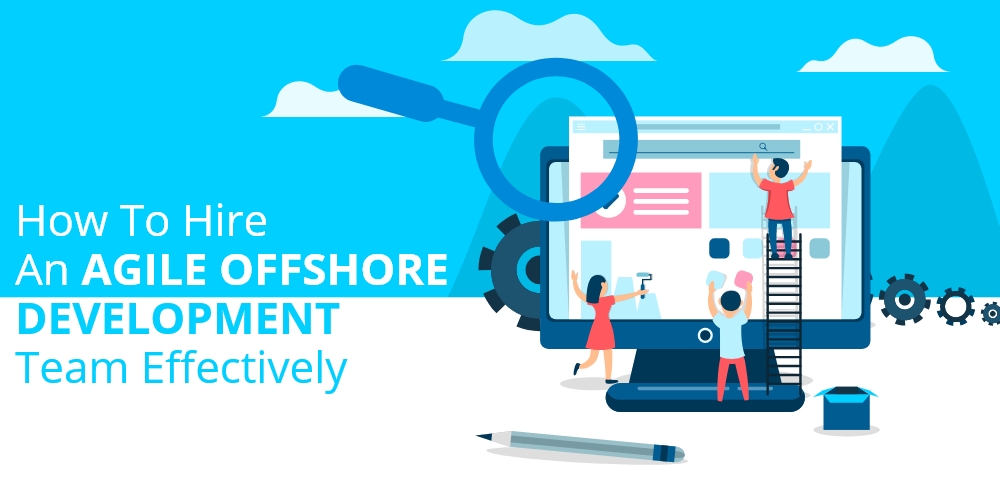 Have you wondered about how to select the perfect development team? And what are the traits to look for in the dedicated team? Here are four amazing tips to keep you informed while looking for the dedicated development team.
1. Flexibility and cost-effectiveness:
You have to hire a team that will be flexible and configurable. Also, have to look at whether the development team has the necessary infrastructure in terms of hardware and software resources to work for your project, which saves them money.
2. Ensuring Security:
Always choose the development team that gives more prominence to security measures for your project, so that you can build highly secure applications.
3. Making your stay focussed:
If the dedicated team takes care of all aspects related to application development, you will have enough time to focus on the core values of your business. You can also get valuable time to spend on the next steps of work like the project promotion and the project launching process.
4. Fully engaged at work:
When it comes to working with a dedicated development team, it is wise to choose the team that is fully committed and engaged with your project so that you can get timely updates on the work status.
Choosing The Right Team
Getting guaranteed results for your project is beneficial for the success of your business. If you have the right team in place, you can make this happen easily. At Infinijith Technologies, our dedicated development team comprises of accomplished and well-trained developers who can even handle complex projects. As a credible firm, we satisfy your necessities whatever engagement model you choose - hourly, monthly, or long-term.
We do follow the agile software development methodology and use cutting-edge technologies to finish your project on time along with building high-quality applications. Also, we have a friendly working environment, which makes our developers be innovative while making them well-engaged with the projects. So, are you ready to hire your desired dedicated development team? You can get in touch with us at any time for a free consultation.