Social media help you grow your brand if you use the right marketing strategies no matter what you sell or to whom you sell it.
Social media marketing is a wonderful way of advertising your product or services through online platforms such as Facebook, LinkedIn, Twitter, Pinterest, Instagram, etc.
The 3.196 billion people on social media make an extremely hard to penetrate the marketplace. This makes social media marketing an easily accessible tool for marketers to promote their products.
Anyone can use social media to do things other than just chatting with existing customers. Sales departments use social to get leads and close sales easily. Even the HR team can get a more talented working professional.
Social media marketing is a very effective marketing strategy and that suit well for all business. Some people still think of what can it brings to my business. Here is some privilege you will get by using it in your business.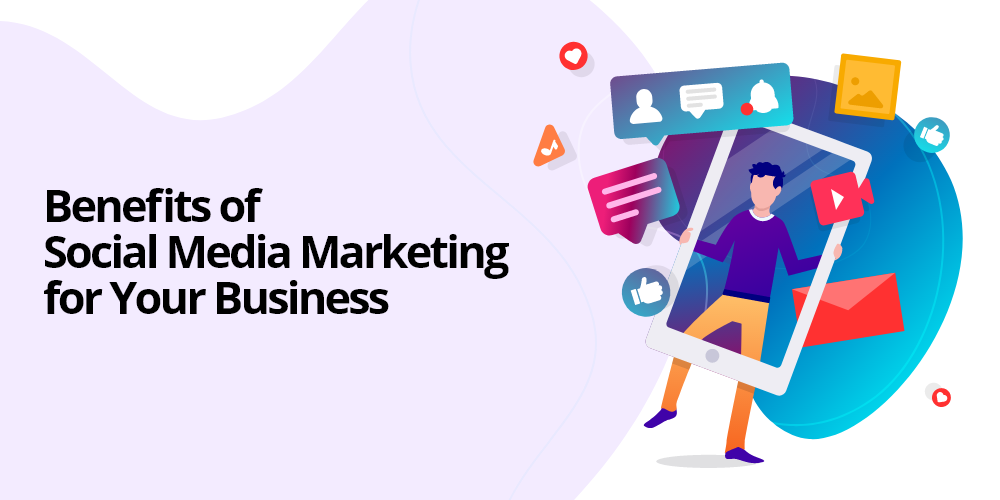 Benefits of Social Media Marketing
1. Shouts Loud about your Brand.
If you want more sales for your business, first you need to increase awareness about your brand and gain effective brand recognition.
Social Media Marketing allows you to create brand recognition. It is the most powerful digital marketing method in that you can syndicate content and increase your brand's visibility and awareness.
You can implement a target-oriented social media strategy that will increase your brand recognition, as this helps you to engage you with a broad audience and potential consumers.
Interacting with your customers on your social profiles will increase brand awareness and also build a profitable reputation for your brand.
2. Brings more Customer Who Will Buy from You
Social media marketing lets interact with customers, which influences people to convert as loyal customers. It results in higher conversion rates it even has a 100% higher lead-to-close rate compared to outbound marketing.
Social media followers have more trust in your brand, which makes them visit your site to enjoy your products and services.
Direct interaction helps in developing an emotional connection with prospects that intern establishes a productive relationship with prospects that can increase your conversion rates.
3. Cut-Short Your Marketing Expenses
SMM is the most cost-effective way of marketing. Just creating an account and signing up its free for almost all social networking platforms. You can also make use of paid advertising on social media.
It returns great on investment being cost-effective and you can use the budget for other marketing and business payments. It needs a little money and time, but you can significantly increase your conversion rates.
4. Improves Your Website Traffic
Social Media is also helping to increase your website traffic. When you share your content on social media, it means you are giving users a reason to click-through to your website. On your social account, if you share quality content, the more inbound traffic you will generate while you can also get conversion opportunities.
5. Place you Better in SEO rankings
Social media play a vital factor in page rankings and improving Search Engine Optimization (SEO). If you need a successful ranking, you need to integrate your website with social media since SEO requirements are continuously varying. And it is no longer used in simple optimize of your website and regularly update your blog.
When sharing your content on social media as sending a brand signal to a search engine that can speak to your brand validity, integrity, and constancy.
6. Engages your Customer with great Customer Services.
You need to provide effective and satisfying customer service for your customers. Have to select target mediums to get authentic customer insights. Where Social media is the easiest way to provide good customer service.
Social Media allows you to analyze what potential customers are looking for and what they are talking about, which also help to gather customer information. Then you can customize the social media marketing campaigns accordingly to target the selected customers.
Social media analytics tools, which you can use to know the behavioral preferences of your customers, and accordingly customize your customer service to enjoy the benefits of social media.
7. Builds Loyalty to your Brand.
Social Media will make your customers find you and easily connect with you. When you connect with your customers on social media, you can make more probable for customer retention and increase customer loyalty.
Customer satisfaction and brand loyalty will be hand in hand for any business. So, you need to engage with your customers and develop a bond with them. Social media is not only limited to introducing your product, but it is also a leading platform for promotional campaigns to reach the customers. A customer sees social media as service channels where they can directly communicate with the business owners.
Conclusion
Social media advertising offers many advantages for both startups and established brands. One simple thing is that you need to regularly update the right social media marketing strategy.
When you have the right strategy, it will lead to increased traffic, better SEO, improved brand loyalty, healthy customer satisfaction, and much more. The earlier you start, the faster you see the growth in your business since already everyone is using social media as their marketing tool.