Mobile development has been growing fastly in every industry. There are offering new solutions for the problems, finding a new way of doing the thing, making the process more realistic along with real-time data.
It has been into every industry from entertainment to healthcare. This changed the way we are going to use our smartphone. It's now not only meant for chatting, calling or even playing games. It tents to solve realist problems in a much more efficient way.
It is estimated by Statista that the total global mHealth market is predicted to reach nearly 100 billion U.S. dollars in 2021 from around 21 billion dollars in 2016. They also stated that 26 percentage of people respondents of 18 to 20 are regularly used the app to track their nutrition
We peoples are now striven to live a healthy lifestyle, It's quite trending in modern times. And this let more peoples pay attention over their diet and nutrition plan to let a healthy happy life in upcoming years.
More peoples are eager about using diet and nutrition apps. The health and fitness sector are more about serving people with a healthy lifestyle to maintain a balance between health and wealth. Many peoples are trying to catch this wave in this growing market.
This blog gives you a deeper knowledge about how to make a diet and nutrition app, its features, the benefit of having the app and so on.
What is a Diet and Nutrition App?
Sometimes the diet and nutrition app seem to be obvious or may thing it can be used by only certain people in real and they may surprise hiring about these apps. But that what not the matter with the diet and nutrition app because these apps can be applied in more than one area of life and used not only by athletes.
Absolutely, it would be a great companion for those of us who decided to build a perfect body but also can use it in food and nutrition tracking and in medicine and daily life as well.
The diet apps can solve numerous tasks usually associated with the from the daily water intake logging required when following a postoperative diet to building your grocery shopping list when planning an upcoming dinner with friends.
Normally, a food and nutrition tracking app are a tool that helps you log daily food and liquid intakes, keep track of your activities, count the calories taken/burnt, and do more of wonderful things ordinary pen and notebook are not capable of doing.
In a word, diet and nutrition apps help you out greatly in taking care of your body and moving toward your goals. Even different app offers different features they also have some functionals income. Considering this fact, we've decided to devote the next two blocks to describe the features that form our food journal app.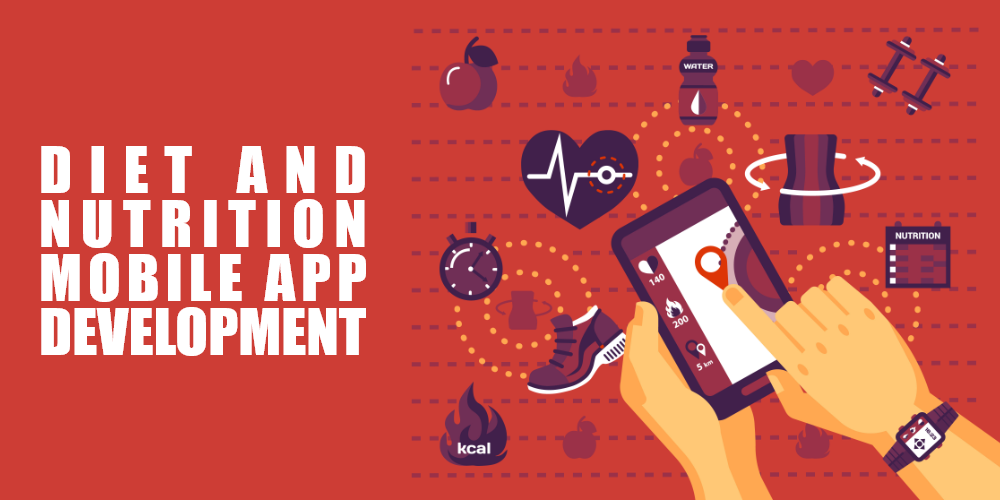 Why a Diet and Nutrition App Are Required?
A diet and nutrition mobile app can help individuals in adopting a fit and healthy lifestyle. By keeping track of their dietary habits and providing personalized tips, it can allow users to achieve their fitness goals. A mobile app can help with the following aspects:

Prepare a balanced and nutritious diet chart based on the user details and their request
* Suggesting healthy food options to maintain a healthy body
* Maintain the log of daily calorie and water intake for the users along with the suggestion of making correct intake of food
* Assisting in weight loss plans with proper guidelines
* Monitoring daily physical activity and keeping track of the diet
* Preparing a healthy grocery list according to the diet plan
But the question here is why these apps for health and fitness are successful?"
* The best part of these apps, observing the physical state is faster and easier than ever.
* Personal data stored could be easily transferred to a physician.
* This app provides the ability to access all prescriptions, diets, and individual workout plans with a simple fingertip.

Types of Diet App
1. On-Demand Workout Apps
Apps that give you workouts on demand are a dime a dozen, but not all are equal in quality or price. Those that made the list here have high-quality instruction and are priced appropriately (or are free), though the styles vary, since not everyone is looking for the same thing in workout instructions. Some even let you join live classes from afar with a video stream.
A few that made the list here are Blogilates, Shred, Foret. fit, Kelo, and Nike Training Club.
2. Nutrition-Tracking Apps
Nutrition apps will give you a clear plan on weight loss and help in a new diet plan.
For example, if you're moving to a plant-based diet, you might want some help figuring out if you're getting enough protein. Nutrition apps do this and more. Some famous apps in nutrition are MyFitnessPal, MyPlate, Lifesum, and Noom.
3. Activity-Tracking Apps
It logs your activities as you do them. If you run, it will count the distance, time, and other relevant stats. For example, wearing a heart rate monitor while doing an activity, they will show a graph of your heart rate for the session when you're done.
Some app like Map My Fitness is a recommendation for people who are just getting started on a fitness journey to track hundreds of activities.
4. Apps for Workout Music
Even some apps bring you music designed to power your workouts, whatever be the matter what it is you do to get fit. With these apps, you can get professional DJ quality mixing, songs that match your running tempo or tracks made for your activity of choices, such as elliptical training or yoga.
Fit Radio and RockMyRun are known for offering good music during the workout.
Features That Are Needed in the Diet App
As you can see, a diet planner mobile app can be quite useful for an end-user and an amazing opportunity for any startup entrepreneur. But before you move ahead with health and fitness app development, you should have a clear idea about the features your app will offer. Features that your diet and nutrition mobile app must have:

1. Dietary Suggestions
The main goal of a diet and nutrition mobile app is to help an individual eat healthily and improve eating habits. So, your app should have an interactive feature that suggests what a user should consume daily based on his body weight, meal preferences, and healthy meal plans. This will make users hooked to your app.
2. Physical Activity & Food Intake Logger
Along with offering dietary suggestions, your app should have a feature that can record a person's daily physical activity and calorie intake. This can be done by creating a food and activity log within your mobile app. A database can relate every activity and food item with the calorific value that would give users an idea about how much they should walk and eat to achieve their fitness goals.
3. Connectivity to Wearable Devices
Your mobile app should also be able to connect with a wearable device like Fitbit, Apple Watch or Android Wear. These wearable devices keep a track of health, fitness and physical activity of a user. By having a connectivity feature that links your app with these devices, you can easily create a detailed daily chart about physical activities using the sensors of a smartwatch.
4. Push Notifications
Your app should also be capable of informing users about various things through push notifications. The push notification feature not only improves the engagement and retention rates but also provides critical information to users when it is most needed.
5. Daily Activity/Diet Analyzer
Just like an activity tracker, a diet analyzer within your diet planner mobile app would give users deep insights on how good they are doing with their goals and how soon will they achieve desired results. Your analyzer should provide valuable data in an easily understandable format so that users can properly utilize the feature.
6. Live Chat with Dieticians
This is a great feature with the potential to increase the engagement rates and interactivity of your mobile app manifolds. You can include a live chat feature in your diet and nutrition mobile app that connects a user to a real dietician.
The dieticians can provide valuable tips and diet plans that can help users in their fitness journey. You can add this feature as a subscription for users, giving you a chance to monetize from the add-on facility you are intending to give to your users.
7. Barcode/QR Code Scanner
Adding a barcode scanner that helps users find out the calorific value of every product they buy inside the store is a great way to keep users motivated. Users can use the feature to scan the barcode of food products and get detailed information on how it can help (or not) them in achieving their fitness goals.
8. Social Sharing Features
Social media is a great motivator and influencer. By adding a social sharing feature in your mobile app, you can make users commit to their goals. Users can share their goals, daily progress and diet plans with friends over social media. This will have multiple benefits. Firstly, users will continue to stick to your app, and secondly, the more users will come to know about your diet and nutrition app.
9. Self-Intuitive & User-Friendly UX UI
The application should be as user-friendly as possible and for that, its functionality should be easy to detect by any group age. The purpose of the intuitive user interface is to move the user to the desired section. And with less manual input instead of making the user search for complex tree structures of tabs easy for them to use.
10. Shopping Assistance
If you are new to the industry and want to stand tall among the competitors then integrate it with shopping assistance. Make users buy their grocery list against a budgetary diet plan. People go crazy for such stuff.
11. Calorie Counter
This calculates the number of the calories gained and burnt in a day. It also can give the weekly and monthly reports of the same.

How to Develop Diet and Nutrition Mobile Application
If you are thinking to move ahead with iPhone/Android health and fitness app development, you need to have a strategic plan along with a clear process for success. Steps that may help you to build an efficient diet and nutrition mobile app: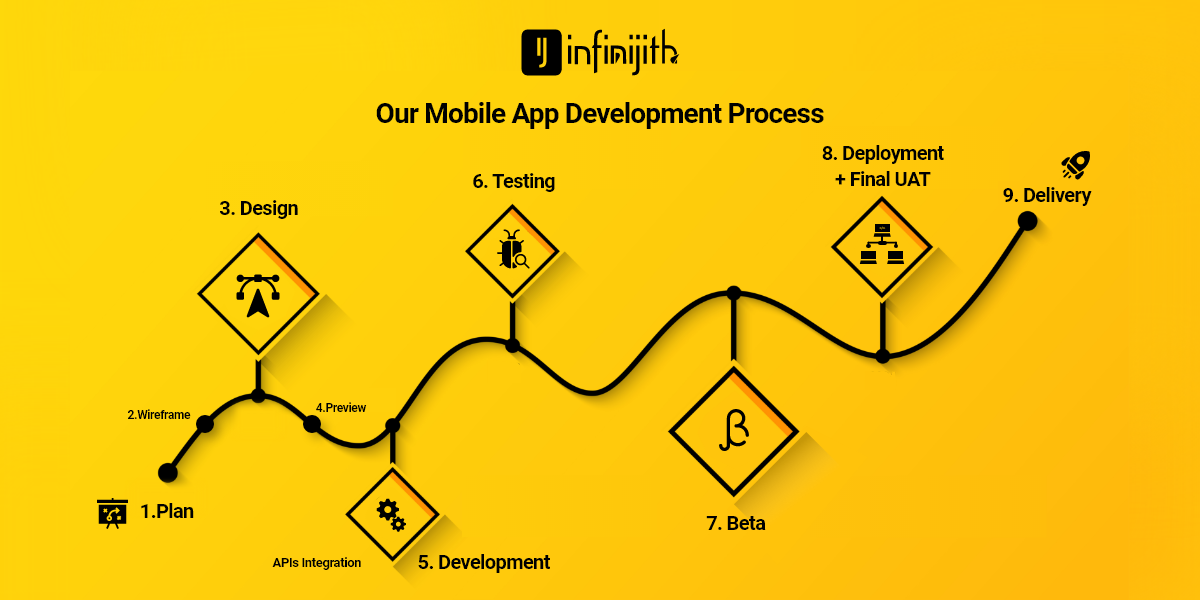 1. Planning and Roadmap Development
Before moving ahead with anything, you need to have a clear plan and functional roadmap about your development process. This should essentially include:
* The features you wish to have in your mobile app
* Your target audience
* Your development plans
* Your goals from the development process
* Rollout strategy
Steps in the Requirement Gathering and Specifying the Needs
(i) Form a community to gather the requirement
Users like to talk online. So, let them talk as much as they want. Create a single community of like-minded people.
Make them share their opinions on diets and techniques for correct nutrition. Let them show off their results. Social media elements may help you bring more users for the application. Many peoples use the diet and nutrition app for their personal usage. They want to stay in shape. Social media sharing features can be implemented for sharing user diet plan. You can generate more feedback on the content and app in general.
(ii) Analysis of your opinion with experts
Remember your academic writing in college? Every assignment requires powerful support of any argument or thesis statement you needed to write. The same thing goes with diet applications. A good reputation is a key to success. If your diet plans really work, the product will have success. A good idea is to link your users with live experts utilizing live chat.
Every time you want to hear an expert's opinion, the system will link you to a diet coach. This approach will be a good tool for monetization in the future.
2.Technical Documentation
It is the initial blueprint before software development, which will be followed until the development marks its end.
Technical documentation will help you create a functional flow that would document everything you planned in your roadmap. This will ensure that everyone on board has a clear idea about what to do and what to expect from the results.
3. UX/UI Design
Once you are done with the planning and documentation part, you need to focus on the app design. Your app should be interactive, intuitive and engaging. Also, you need to make sure that all the features in your mobile app are easily accessible and understandable. Maybe you should think of going with a minimalist design. Once you get in touch with an interface designer, he/she will help you finalize a wireframe and the UI design based on which the development can begin.
(i) Make your visualization more relatively
One thing you need to concern is user interaction because user interacts with live stats, results and shopping lists daily. The idea is to make them as comprehensive and detailed as possible. Not only they should look engaging, but also push your users to a particular goal.
Another issue is to make the process of entering nutrition and consuming data as easy as possible. Today, most applications implement manual documenting of all necessary information. If you think of some more effective and automated way, you will certainly succeed.
Create a shopping list with an in-built dictionary making it easy for users to find products and add them to the list. Let the app remember previous purchases and users' preferences by date or day of the week. A product prompter is also a great function to put an ease on the shopping process. You can go even further and add geofencing to let users find menus of the nearby restaurant and cafe.
(ii) Use a various form of content
In-app recipes are a brilliant idea especially if you are planning to develop a mobile meal planner. You can come up with several upgrades and deliver not only recipes but also voice guides and instructions on how to cook a particular meal. Developers may use the same approach as Live Experts chat and link users with real-time chefs.
4. Development
The development phase would involve working with developers for Android or iOS app development. All the features will be coded, and your mobile app would be made functional with the UI design as a base. You need an expert development team to ensure you get the best results from the development activity.
To make the database of the calories against each consumable item, you will need storage space and Amazon Cloud Storage or Auto Scaling web servers will work fine. Make use of an open-source platform for Push notifications.
5. Testing and Deployment
Once everything is done, the last part is to test your mobile app before the final deployment. Post-development there lays an important part, and that is testing. After the completion of the app, you need to test well. because it should not stop at the mid of the operation.
After a complication of your application function, you need to provide a real time challenges to test them against various situations.
Before releasing the app cross-verify its functionality. Testing can be done on various parameters. Your main goal should be to eliminate bugs and ensure that your app works flawlessly in various situations.

The development team more or less remains the same of every app development project; it's only the number of members that increase or decrease according to project needs. Here too, you would have a project manager, a couple of designers, two or more app developers and app testers.
The development cost of Diet and Nutrition Mobile App
A team of professionals is required to develop an app like Diet and Nutrition. Sometimes you need to spend little more money quality app.
The average development rate is $10000 – $20000.
Conclusion
The diet and nutrition-based apps are slowly and steadily gaining momentum as more and more people are becoming health and fitness conscious. People want to remain on a good balanced diet that keeps their weight under control and also checks the other vital parameters of the body.
Though, it's not so easy to create an effective application able to compete successfully with other programs in the healthcare market. You have to take into account a lot of things including digital health trends. That's why you need to choose app developers very carefully.
Infinijith has long been working in the app development market, and our experience allows us to achieve the best results. We help you get an app that would have every chance to join the ranks of strong mobile health app market players and become a stable source of your income.