Experts in the IT corridors and growing business tycoons would like to realize their dreams come true thereby enabling a digitalized world in their finger tip. Most of the techies in the corporate world today would like to see a sea of change in this evolving industry; they need to adopt the new technologies and innovations that automate some processes.
Thriving business of mobile application is emerging now as it has been constantly evolving to become an integral part of an organization's growth. Every business needs applications to interact and perform a function and employee workflow is taking a vital place.
Right from content management to customer relationship management (CRM), different companies are opting for an enterprising application to mitigate volume of issues in their daily tasks and enhance productivity.
A stats say the global enterprise mobility market is estimated to grow up to $500 billion by 2020.
There are certain things that you need to focus on before getting an enterprising mobile application.
What is an Enterprising App?
Flourishing mobile apps are developed for the business to solve different problems faced by the business. It is mostly used in complex processes.
It may be payment processing, customer support, email marketing systems, automated billing systems, enterprise application integration and many more processes that are directly related to the customers or employees.
Most needed applications are often complex, robust, scalable, and intended for a specific purpose. It is used over the majority of tasks or inherent problems in the enterprise.
Though there are no defined set of properties in the Enterprise apps or software, there are some characteristics which are found common across different enterprise applications, such as
* Central management

* Scalability

* Robustness

* Business-orientation

* Critical for the vision and mission of the enterprise

* The interface to communicate over other enterprise software
Enterprise mobile applications need to be interconnected for both internal and external use.
To recapitulate, in this blog we are discussing a much more detailed explanation and information regarding the enterprise application, how enterprise mobile application development is carried out and how it works. This blog also gives you detailed clarification about the challenges faced in the enterprise app, tools, and the best practices involved.
Why does Business need the Enterprise App?
Ever since enterprise mobile apps have become a necessity, the apps are constantly improving in leaps and bounds in order to provide the best of every other app.
Enterprise benefits both users as well as business. Thereby, more mobile app development companies started to develop enterprise app. The enterprise mobile application has a huge advantage for all types of industries.
Here we have stated some of them as follows:
Analytics for business strategies
When you have a mobile app, businesses can track important analytics such as the number of visitors, users' most viewed product, time spent on each section of the app and a lot more.
Analytics help the marketer to figure out the target audience and make sure their audience is right.
Competitive advantage to businesses
Still, there are many companies or industries that don't use their mobile apps to the full potential and some companies don't even have a mobile app yet to manage their businesses.
The competition is quite low in this area, nevertheless, it is a big advantage. It has certain benefits for your business if you work hard with mobile apps for business.
Helping small businesses in the industry
Mobile apps are instrumental in making the small businesses to grow in an extremely cheaper way.
Most businesses are skeptical because they don't know how much does it cost to make an app and eventually assume it's cost to be high. However, that's not the case. Mobile app has a greater impact on the growth of the business.
Sales and business growth
In this competitive world the great challenge for the business is to find the easiest way of marketing. Mobile application helps in developing the various strategies for marketing campaigns to reach people easily. With the increasing number of mobile users, there must be an increase in the sales at the same time satisfy the user requirements. The mobile apps are very effective in ensuring progress levels within a short span of time.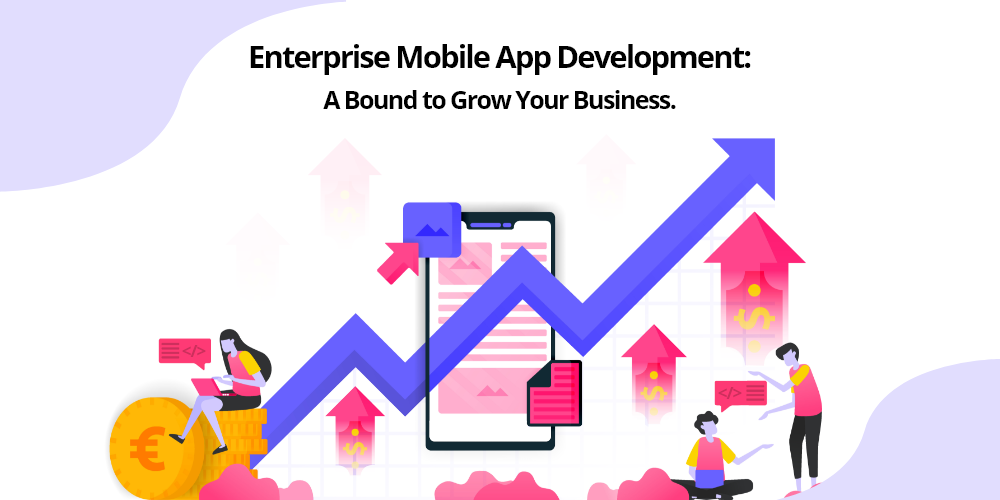 What is Enterprise Applications Development?
Enterprise application development involves a significant amount of complex data, rigorous security, and maintenance requirements to comply with, and on top of everything, they must be user friendly.
Enterprise mobile apps are used in many platforms across corporate networks, intranets, or the internet.

The development process of an enterprise mobile app must be consistent in moving forward. The enterprise mobile apps focus on satisfying specific business requirements that usually affect other needs in the organization because of the advancement.
In essence, it's the systematic process of designing, developing, implementing, and deploying a mobile application that serves as an instrument to manage and operate specific aspects of an enterprise.
It believed that the development of an enterprise application is a tough job, because, enterprise applications have complex methodologies to implement its ideas.
Therefore, the development process needs to be delicate in planning and execution and it needs the expertise for doing it in the right way. If you have opted for a developer who lacks awareness and adequate knowledge in the development phase, then it will be costly and frustrating.
Benefits of Enterprise Apps
Instant information exchange and sharing
The right information at the right time makes the business more successful and stable.
When information arrives at a time, leads may be converted into deals. Traditional systems of exchanging and sharing information create gaps, but when mobility is employed to do that, things reach executives concerned at the right time.
The whole process of information exchanging and sharing is simplified and transactions take place in almost real-time that makes a business to rectify the problems easily.
Process simplification and reduction of complexities
Businesses need the support of technology to run their operations. If you do not use the dedicated enterprise applications for every task, then it will be a lengthier and time consuming process. There may be a need for using several applications to complete a single task.
The greatest advantages of enterprise applications are that it streamlines several steps of a single process in an easy and effective. As a result, the executives can deliver better output and productivity.
Instantly responding to opportunities
When you have a dedicated enterprise mobile app for a particular process it will let you to rapidly respond to the available opportunities.
Whatever be the problem or situation, an enterprise mobile app will help you to respond to customers without a delay of even a single second.
Increased productivity
With process-specific, dedicated enterprise app, employees can connect with their work-courses without the limitations of time and place. This, of course, boosts their productivity and contributes more towards the work.
Improved service quality and responsiveness
When you use the enterprise app to a greater potential, it influences the work environment by enhancing the employee's engagement. It also provides them with updated information that will enable them to work instantly.
If you have enabled the enterprise apps for business intelligent purposes, then it will lead you to all the required information that help in converting a lead or visit into a sale.
Even enterprise application offers much more features to your business. Have a look at the Key features of enterprise ecommerce platform and get to know how this app could help you in improving your business.
Challenges in the Road of Enterprise Application Development
Business requirements and environments
Different business has different aspect to deal with their own problems.
There can be technological transformation taking place. Or there can be economic disruptions. Sometimes the perspective of the business changes with the person it deals with.
Even business needs to change the path that a company follows, it might change owing to the feedback and analysis. This simply means that new workflows and requirements have to be implemented.
This is what the major problem with the enterprise applications.
It is more complicated and the requirement might change unexpectedly and affect some other requirement that needs to change the entire solution.
It is not possible to predict any changes. But you can overcome it with flexible and scalable architecture with which it becomes a necessity.
Security
Enterprise app has a huge resource such as user data along with employee and company data, which make the security of the given data.
It needs security at all times beginning from controlling user access to securing the resources of the application. It needs to have control over various services like user-interface services, operating system services, business process services, customer care services, etc.
It is necessary to set user access to restrict the usage of these services to authorize users and even the employees.
A huge resource demands to have a strong defense system that includes encryptions and firewalls at application, host and network level. It is essential to protect the data in the enterprise for the company
Changing Technology
Technology has changed from simple code to Artificial intelligence now. There are also many researches going on with innovative ideas and tools to solve the problem in a simple way.
What we use today seems to be important now but might become obsolete over the time. Whereas, an enterprise app needs to be 'future-proof,' there is no need for the reinvention.
Artificial Intelligence, for example, is being deployed commercially in almost all industries. It is also stated in Adobe, 15% of enterprises are using AI as of today, and 31% of enterprises will be used in the next 12 months.
It is difficult to adopt a specific technology for developing the enterprise application.
Data Encryption
One of the biggest challenges cast in the enterprise application development is the proper and secure encryption of sensitive data stored on smartphones. As mLearning is getting more and more popular at workplaces, the concept of BYOD (Bring your device) is making it more difficult for app developers to keep the data encrypted.
Nevertheless, encryption and secure containment of data are crucial for enterprise app development because it can save from data leakage in the case of device theft.
Interoperability
In the enterprise, all the systems need to be well-linked with each other. For example, leave management system and the payroll system must be linked for consistency across all functions.
It's obvious for a customer management system to use data from the sales system to figure out the sales closed at the end of the month
Enterprise applications are a web of neatly linked functions across different sub-systems.
It needs to build and use a smart link between applications that use the same set of data to achieve optimization in an enterprise application to avoid accessing the wrong data.
Interoperability standards should be followed in sharing the same data that ensures consistency of the data across the process.
It is also necessary to achieve effortless sharing and usage of data.
Access to data
Development of the enterprise mobile application has several challenges which are faced by developers at different levels.
One of the most crucial and common problems is offline access to data. This has become one of the biggest challenges that are faced by the mobile app development companies, especially in big enterprises that call for an urgent access to data even if there is no connection to any online portal.
Things You Consider in Enterprise Mobile Application Development
1. Understanding the requirement and the problem to be addressed
Most developers stick to the framework that they are working for long hours.
Logically, it may appear like a more natural thing to do, but no company should start working without grasping the customer's requirements.
This creates a lot of back and forth in the later stage. If you have a great responsive application with great problem solving solution and it fails to address the actual user problem, then it will be a failure. This is due to the lack of an efficient R&D strategy.
Thereby, it is more important to do lot of research in user requirements part for planning the initial stage of development itself. This helps to avoid any misunderstandings later. In a nutshell, do your homework well- so that all the development prospects of your project work out well.
If you have no idea about how mobile app is developed and the strategies to implement during the developmental phase then refer to our 5 Phase of mobile app development to gain knowledge in mobile app development.
2. Keep your platform focused on the target audience
A mobile enterprise app differs from conventional software. Even then, the approach used for results is not differentiated by many developers. It is crucial for you to first recognize one to two critical goals of developing an app.
It is strongly recommended to identify the useful features and functions which would help you define the core of your app which addresses the user problem. It will help you to know how much does it cost to make an app.
Whenever you feel that some feature is not in tandem with the audience you are targeting, then work towards removing that feature.
You can further consult a technical resource during the planning phase to ensure that the outline of the project drawn out meets these goals and would reach the right audience.
3. Use technologies to make the app work better
Technical advancement has taken over our age and how mobile devices are consistently evolving, and new user features are cropping up every other day.
A smart phone today can work on movements. It uses various advanced technologies like LTE, GPS, Bluetooth, and Wi-fi to help in communication. It also enhances communication between various applications either within smart phones or with other phones.
Try to include forms and sensors while making your application to ensure better user experience.
If you do not have any prior knowledge in technologies and tools for developing an application, then hire a developer who can help you in all aspects.
When you have Hired a best mobile app development company, it will definitely benefit your business and help grow.
4. Define your criteria for your application
Success criteria entail measurable outcomes that your project plan aims at producing.
In simpler words, these are the items that show the kind of impact your app will have on your customers, employees, and even the stakeholders.
This criterion needs to comprise goals which are made with the approval of the project sponsors. To make this a lot more efficient, you can put your focus on quantitative measures.
This will help you in keeping your app access as well as maintain it well in the long term.
5. Make the user experience great
User experience is the key factor in any mobile enterprise app. Do not just assume that your users will startle by the different features you put.
The Mobile App Development Company in the USA gives special attention to the user experience that makes the application more successful over the years. If you don't put enough effort in making your user experience smooth and yet make it great, then users will stop using it without another thought.
If your user community is unhappy, then it would lead to conflict. This will cause an entirely negligible rate of interest - failing all the efforts you have made towards developing the app.
The success of application fully depends on the user experience so start building the great user interface from the initial stage of the development. Make sure to have an excellent UI.
Developing these prototypes will ensure that you are on the right path and you can make a mobile solution that your users will love.
6. Have a plan for your maintenance in advance
Whenever there is a tech innovation in the picture, we end up paying attention to the sophisticated features and sideline other things.
For example, a maintenance budget is often ignored. However, an experienced manager will ensure that a budget for training needs and maintenance is in place right since the beginning.
This needs to be included in your operational costs and cannot be treated otherwise. Your leadership needs to realize the total costs involved so that in case of a downfall later, your funds are ready.
When do you have a better user engagement, when does it result in a higher overall rate of interest, and even long-term success for your app?
If you are looking for rapid development along with superior performance then go for flutter mobile app development.
7. Explore internal marketing for it sells better
Marketers have different set of strategies to promote the app to attract the user and make them as customers.
If you have a new app, then you need to formulate a strong selling strategy.
You would need to sell a mobile enterprise app to employees. If your customers belong to younger group, then you need to put consistency in the promotion process. This might be a difficult task at your hand.
Hence, adopting a slightly different approach to marketing will surely help. The best way to market your app is by leveraging the network of internal specialists.
You can get people from human resources, communication, marketing, or even campaign specialists to ensure that they make strategies.
8. Include real-time framework
Real-time data analysis will indicate the future needs to be implemented in the app industry. Every individual is trying to get some other forms of the real-time system involved so that data processing becomes much more comfortable.
In this digital world, it is easy to collect real-time and maintain reliable connectivity to ensure stable performance for real-time users. Our connections now come with different packets so that even if one fails the other makes up for it. It is the best way to ensure that it loses no data in case the connection fails.
When you do not understand the enterprise application or enterprise-level platform, look at our blog How to choose an enterprise ecommerce platform to know more about it.
Conclusion
Enterprise mobile helps not only in fostering innovation but also in an excellent way to work towards employee loyalty and better productivity.
It helps you save many hours from getting wasted on untangling malfunctioned cross-links among various sub-systems. Check how efficient is the Enterprise Application in achieving the main goal.
Infinijith is specialized in mobile app development which helps you to turn your idea into reality. Infinijith will be your reliable partner who offers an innovative solution that fits your mobile app needs and helps in profitable growth.
You can even hire our app developers who work in full-fledged manner for you in developing the mobile application.