When you think about the mobile app, the immediate thing that comes in your mind is Android, whether your developer or a user. Are you think mobile is not important for your business? Then, look into the following statistics:
In the first quarter of 2019, the mobile app generated $39.7 billion in revenue. In 2018, the total number of mobile app downloads exceeded 194 billion.
But why Android is popular among other developing tools? Androids' open-source operating system and simplified development process make a tremendous user base for it. More overall, the companies have used this platform and created a custom mobile app that could solve a particular problem of the customer. Which also increases their business value to the next level.
Why android app, the main reason for the popularity of Android is that app development has become much easier and also led to the emergence of a good solution for the problems in terms of apps.
Android application development makes the developers or an organization reach their customers easily and efficiently. Android applications offer many benefits for both the user and business.
Why Go for Android Application Development
Open Source
Android is an open-source platform and best technology framework offered by the Android community. Android makes a way for your developers to interact with the community of Android application development.
Android offers a fast and easy app development that makes the Android platform very attractive for handset manufacturers & wireless operators. It also makes a developer learn easily and creates better opportunities for them.
Easy Adoption
Developers think why we use Android for Mobile app development and how it's going to help me in developing the process. Android has a rich set of libraries and scripted in JavaScript. Which makes anyone builds Android applications with the basic knowledge of Java.
Most of the developer prefer Android OS with Java programming to develop a mobile application since they find it easy to adopt and script code. The transition of code script becomes more helpful for developers to make a mobile application and implement Android application development services as an app.
Easy Integration
Now a day's people want every process to be done under one environment. For example, if they are buying something from the ecommerce website, they expect every service from confirmation of the order to get feedback under that ecommerce site. This is why we choose Android is better and an easy move.
So, it is essential to customize your application and make your platform user-friendly to interact with the customers, which increases your brand popularity. Then developing the Android app is the right solution.
Also, you can integrate any of the additional features to your app according to your business need. It makes you have the best application and processes architecture platform for your app.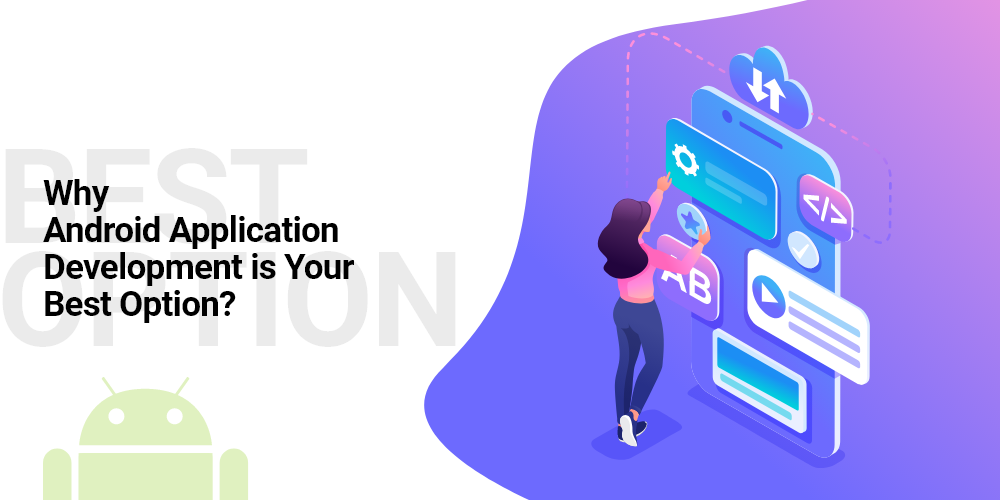 Low Investment and High ROI
The cost-effective platform for developing mobile applications will be the Android platform. The investment is really low compared to the other development method. But it results in a high ROI than any other services at a low cost.
Android makes you reach more people, which increases your business growth. It offers an SDK (Software Development Kit) freely for developers, which minimizes the development cost.
We can categories the development costs into three stages:
* Android application development cost
* Testing cost
* The hardware cost for testing and deployment
Multiple Sales Channel
Android offers many ways for the deployment process for your application. So, you no need to rely on a single market to distribute your applications. You can use a third-party application marketplace, but you can also form your distribution and sales channel.
When you choose the right promotional strategy, you can reach your end users through multiple channels easily.
Guidelines to Develop an Android App
Focus on UI/UX
To make your developed Android app gain a strong place among millions of other apps, you need to focus on its UI. The user interface allows you to use it easily and bring unique brand recognition to the market.
Clarity and simplicity should guide the design of the interface of your application. The sole purpose of your application is to facilitate user interaction. We can achieve this when the UX is easy to use with a minimum of clicks to reach an item.
Research about the target audience
For developing a great Android app, it is important to identify your end users and focus on their expectations for that application. Several factors influence the definition of your target audience: profession, age group, location, etc. All the functions of the application depend on the preferences of the target users.
Choosing the right platform and framework
There are many options available for the development of your application. It could be an Android app, a web app, a native app, or a hybrid app that you want to build for your business. So, do not skip choosing the correct operating system Android, iOS or Windows, to reach your target audience.
Today, with cross-platform, it can support a wide range of devices and deliver applications with no problems. But Android as always ready to win the race shortly and will give a strong boost to your business too.
Latest technologies
Android Application development has evolved and many new technologies have simplified the application development process and have also brought the desired results with ease.
From the customization of the application to the Augmented Reality (AR), these technologies have allowed SMEs to gain high visibility and help them fight in the applications market to hold a strong position. But mostly, integrating all this latest technology may complicate the development of the Android application.
Marketing strategy
Some might think it's too early to think about marketing before you've even begun your development. However, it will start creating the buzz about your app before it's in the app stores.
Start your marketing with the following thing:
Branding defining: Make your unique name, colors, logo, and the tone of your content set you apart from other apps and businesses? Consistency in all the processes of your app development will let to have a great app.
Channels for the app: You need to know about a place where your target audience mostly hangs out? Whether they are easier to reach through social media or email? Do they prefer video over written content? How much time are they spending on their mobile devices?
Create content related to your app: Based on your answers in the previous point, you should now know what content your audience craves and where to reach them. Start mapping out you're written and/or video content and sharing it on selected channels.
Outreach reach your people: Always some effort into reaching out to them and provide them with lots of value for putting your app in front of their audiences.
Final Thoughts
Android mobile app development is very cost-effective and relatively easy if you use the latest and advanced technologies. However, the popularity of the Android app depends on its purpose of use by users. Infinijith Technologies offer Android mobile application development services with dedicated app developers. Infinijith offers the best solutions in time for your problems.