When you look around from start-up to enterprise, everyone is capitalizing on the ecommerce industry.
Ecommerce an easy way of shopping, a quick way of generating revenue but it not that easiest or quickest way of staring it. It needs the right processing strategy to create it, strong knowledge on current ecommerce trends and technologies, a lot of determination to work on the right path.
To help you, we have put together the basics of getting of profitable ecommerce business. If you are starting an ecommerce business these blogs guide you to launch and grow a profitable ecommerce business.
Ecommerce and E-business?
E-business a complete process that is necessary to start, run and manage an online business. Where ecommerce is part of e-business since its type of business model.
We concern more eCommerce than e-business due to its wide range of acceptance.
Ecommerce refers to anything that of buying and selling goods or services using the Internet, and transfer of money and data to execute these transactions. Don't put the term only for selling products online; it is extended to term all kind of a commercial transaction that is facilitated through the Internet.
Ecommerce does not limit you by describing what type of product that you are allowed to sell but to grow your business-wide and make it globalized you need to concern about the type and quality of the product you sell. The need for the ecommerce market is still expanding bigger and bigger than ever.
Why Sell Online?
Are you thinking about starting an ecommerce business and make your product reach? One of the finest things with ecommerce is that you can sell your product 24/7/365 this makes your clients buy whatever they want and whenever they want. The best way of earning a profit in a short time.
Launching an Ecommerce Business
(I) Know About it Completely
You can begin by researching on Google. Put yourself in the mindset of your customer. You need to research on may think from business planes to a product to identify the customer preference and to analysis about the competition.
It will allow you to:
* Identify customer pain points
* Come up with new products
* Analyze promotional strategies
* Pricing opportunities
* New ideas & marketing strategies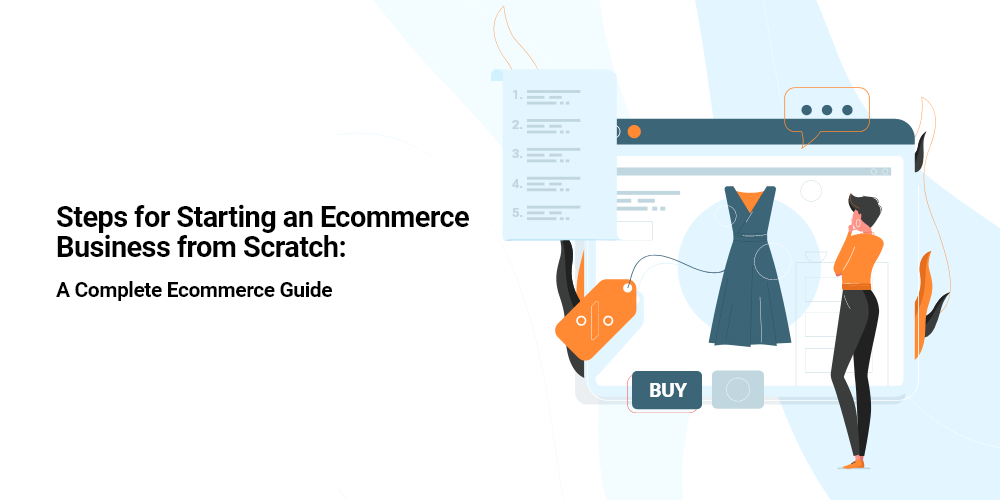 (II) Form a Business Plan
Before you can decide on what to sell or launching an ecommerce business, you need to understand the different business models available and what is your business plans.
If you are selling online, then there are numerous ways of selling, but you can't do all those things. You need to stick to the particular business model to make your business in the right way.
The Business model is the one which decides how you are going to earn a profit. Various ecommerce business models are ranging from direct product selling to subscription-based models.
The major factor in deciding your business model is to identify the source of your revenue and way of selling.
(III) Find out Possible Items to Sell Online
To start an ecommerce store, you're going to need a physical product to sell. The most crucial factor over ecommerce is choosing your niche product. You need to spend time upfront finding the right market and products to sell.
You might already know exactly what you want to sell, but if not, no worries, this post will walk you through the process of market research.
(IV) Study Your Customer to Find Your Niche Product
You need to understand who is your customer. So, it can help reach out to him/her in the best way possible. One way to ascertain this is by evaluating the customers of your competitors. Some parameters to keep in mind are:
* Establish the demographic, i.e.) gender, age group, income level, education, etc.
* Make use of social media for identifying people's interest in your brand.
* Understand the customer better by interacting with them through social media.
(V) Figure Out Where and How You Can Get it
There are plenty of factors and elements that ensure the success of an ecommerce business. One amongst them is to find the right vendors for your business.
You can always work with the local vendors as that reduces both the shipping time and the costs. It will allow you to test the product and control the quality of goods being shipped. Making a good choice of a manufacturer will play a vital role in boosting your revenue.
If you are buying from the third-party vendor or drop shipping, you may not be able to control the quality of products as you cannot physically test the product due to geographical restrictions.
The following are the few factors that you need to check to find the right vendors for your business.
* Experience, Expertise & Trustworthiness
* Quality Practices
* Size & Scalability
* Customer Reviews & Testimonials
* Sample Projects
* Transparent pricing
* Management Processes
(VI) Make an Online Presence with Your Ecommerce Store
It's easier than ever to build your ecommerce website and start selling products online. You can launch your ecommerce site in the day with a website building tool that is offered by many website builders.
You can streamline your website building process and thereby reduce the processing time.
You need to have a customized ecommerce site that meets your requirements and current trends in the market. Your ecommerce site must grow with your business and satisfy all the needs you have during evolution.
Even if you've never built a website before, you can create your very own ecommerce store with ease.
In Affordably priced, scalable ecommerce platforms are available to build an ecommerce website so that even the smallest business can start a website and successfully sell online, as opposed to earlier days when only the giants could afford the necessary tools.
(VII) Decide on the Ecommerce Platform
The best ecommerce platform you choose for your small business determines the capabilities of your website on both front-end and backend. There's a wide range of platforms available today, and some have more features than others. Generally, ecommerce businesses don't need some high-end features geared toward management of a larger company.
Smaller-scale platforms quickly become insufficient when your business starts to grow. Scalability is vital to your business's long-term future, so look for a platform that grows with you.
It's also a mistake to start with an enterprise-grade ecommerce platform when your business doesn't need it yet. This is just a huge increase in expenses with no immediate benefit. The best choice is always to use a platform that will work equally well for businesses of any size and has pricing to match that range of tiers.
Here is a list of the essentials you need to take care while building ecommerce store:
* Name & Logo
* Securing Domain & Hosting
* Registration and licensing
* Selecting Sales Channels
(VIII) Marketing Your Product Before and After Launch
Marketing is an essential part of the ecommerce process flow because it's how you raise brand awareness and bring customers to your store. You should have a marketing plan in place before you launch your website like SEO. A best ecommerce solution needs the right marketing strategy to make it successful.
A strong marketing strategy will build your brand. Marketing mainly focuses on creating brand awareness. The Brand is the most important asset of a company.
Mostly, marketing is an ongoing effort, but automated ecommerce tools make it much easier. The major goal of marketing will be traffic, revenue, and to create a loyal customer base.
1. Go with SEO Friendly Website
It is significant for entrepreneurs to understand ecommerce SEO strategies. A solid ecommerce SEO strategy will allow your online business to rank higher on SERPs and garner organic traffic with ease. SEO is something where many entrepreneurs fail because they are unable to fully exploit the power of organic marketing. The Importance of SEO will be improving traffic or building trust or create a loyal customer.
A strong SEO strategy will improve your click rates, sales, and brand awareness. Some SEO strategy:
Research on Keyword
Before you begin any SEO work (on-site or off-site), you need to start with research: keyword research and competitor research.
Find Keywords for Your Homepage and Product Pages
Always choose a keyword that is highly relevant to your brand and products.
Keywords for Blog Topics
You need to have a blog content with the keywords that you have not placed them on your website. Make sure this keyword can rank your ecommerce site better.
You have to capitalize on long-tail keywords with your blog. Long-tail keywords are unique searches that people use to find things online. They consist of more than one word.
Ensure the Correctness of the Site
You need to audit your site for problems that need to be fixed before it launches.
Some errors that you want to correct quickly include:
* Page Redirecting or any 404 pages.
* Duplicate content pages, meta titles, and meta descriptions that you may not need it.
2. Determine Your Website Speed
You should not make your user hang around and wait for loading your website. If you make your users wait for results, then they will back to Google to find a faster website.
Statists show that 40% of people abandon a site if it takes longer than 3 seconds to load. Because of a slow site, you may lose their customer.
SEO also has some more technical aspects, including the URL structure and meta tags of each page, 301 redirects to rescue broken links, and canonical URLs to designate the real page within several similar pages.
3. Make Use of Social Media
Social media is enormously popular, and you're missing out if you don't work it into your marketing strategy. Making social media as your marketing tool is a cost-effective strategy.
Social media marketing is the best way to market your ecommerce site. Through social media, any small businesses can reach their target audience and boost sales over time. This is why 97% of marketers use social media to reach their audiences.
4. Build with Strong Content
I'm sure you must've heard of the fact that Content is King! If you aren't aware of what ecommerce content marketing is all about, then you can't run ecommerce business successfully or even a website.
Various content marketing strategies will allow you to boost organic traffic, improve conversions, and, most importantly, increase sales. Present content in any format as long that helping your customers to knowledge about both your site and product. Your content gives you the chance to make your customers understand how your product can resolve their pain points and make their lives easier.
5.Reach Individual Through Email
According to the study, email marketing offers an ROI that is four times greater than any other medium. This makes it a highly efficient practice to derive more sales and profits.
Email marketing is a dynamic and powerful way to connect with people.
Sending a regularly timed newsletter to people who have chosen to subscribe, whether they've purchased from you yet.
The most successful newsletters contain useful information or entertain the reader, rather than pure sales language. They're also a prime opportunity to include coupons to encourage your subscribers to make a purchase. For past customers, you can tailor the newsletters to match the interests they've shown you — for example, the coupon you include could apply to a product that relates to their previous purchase.
6. Share Space with Partners
Partnerships involve outreach from your business to other businesses or media that may be interested in showcasing your brand or products or working together in another way. For example, trade guest blog posts, which will expose both of you to an entirely new audience.
Affiliate marketing is a useful tool that allows others to promote and sell your products in return for a commission. Bloggers, review websites, and other online media are more likely to write about your products if they can earn a commission on any sales of your product that result from their website.
(IX) Put the Payment Gateway and Shipping at Best.
You need a payment gateway, there's no way around payment other than this. The payment gateway has seen to be extremely complicated and out of your league to you if you are new to it.
But the truth is, payment gateways aren't as nearly complex as you may have initially believed. A payment gateway authorizes a credit card (or other) transaction instantaneously. When you have multi-store
Payment gateways not simply deal with credit cards. One-click checkout and other fast-tracked checkout systems made possible to customers. It makes both checkout and payment process easy for customers. This needs an extra degree of security.
Choose your payment gateways based on the needs of your customers and your business. Ecommerce platform that you have chosen must integrate with the payment gateways you want to use. Read guidelines for integrating your payment gateway with an ecommerce platform.
When you have decided on other things like a platform or marketing, it is also important to know about shipping and logistics.
Logistic mostly depends on the type of product you sell.
If you decide to sell smaller items, like phone cases, then in-house shipping becomes much easier and more cost-effective.
But for bigger and costly products it's better to choose somebody who knows their work better than you.
Conclusion
Ecommerce processes are important for every ecommerce store, whether it's small-scale or an enterprise level. You need complete planning and guides to start and launch a successful ecommerce business.
It looks easy when you are planning but things get complex when you get it into action to build an ecommerce business. But thanks to ecommerce which makes this job easier for you by getting all the functions and features onboard that require running a successful ecommerce business.
Infinijith provides you the best ecommerce solution to develop and set your ecommerce store. Infinijith comes up with all the features that you need to run the finest ecommerce store. We offer a fully customized online platform to start your ecommerce store that grows with your business. For any queries regarding setting an ecommerce site, connect with our consultants for choosing the right ecommerce platform.