PPC (Pay Per Click) advertising you run your ads and you pay when someone clicks on your ad. The most known PPC advertising is Google Ads and Bing Ads. Most people confuse the promoting product through their website and running an ad campaign.
In your website, you can promote any product in any way like a blog, an image or a content or a video related to the market. But in paid search ad will run an ad through clickable link or image that pays a way to your product.
First, you need to create an ad and link it with the targeted keyword or link address. This ad will appear for internet users when they search for certain things using search engines like Google.
Mostly this ad will be displayed when the user is performing a commercial search, meaning they are looking for something to buy that could be anything from food to furniture or electronics items even software.
PPC has a positive impact on both small businesses and big brands. PPC advertising plays a vital role in online marketing campaigns, so it's important to concentrate on PPC marketing; if not, you're losing some valuable traffic and revenue. Here is how you can run a Pay Per Click Ads and why you need it for your business.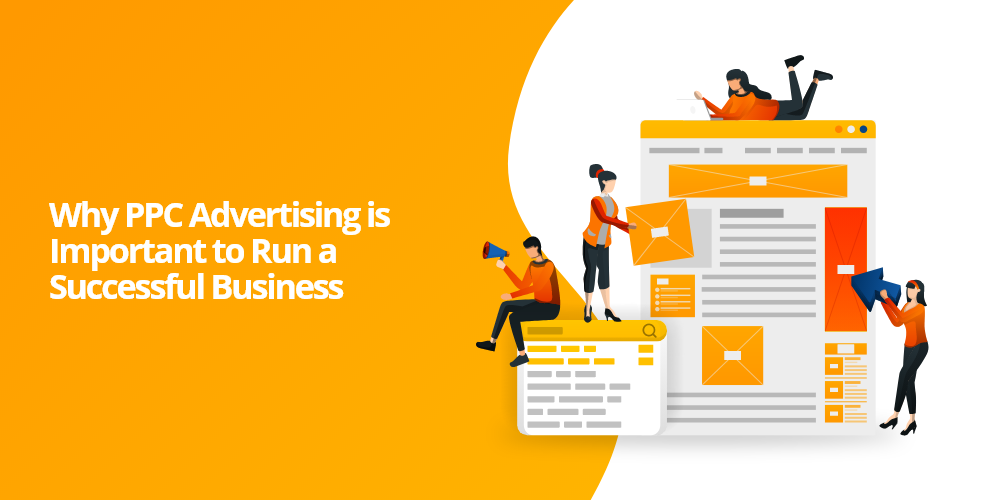 How does Pay Per Click Advertising work?
There are 3 main parties.
Advertisers.

PPC network

Publishers.
Advertisers are business owners or individuals who use PPC ads to promote their products and services on the Internet.
PPC networks like Google Ads, Bing Ads, and Facebook Ads display their adverts on their network of the advertisers.
Publishers are individuals who team up with PPC networks to earn revenue from displaying their ads. Almost all publishers' own websites that they can display adverts on it.
Whenever a visitor on the Internet clicks on ads, it charges them with money by the networkers. Pay depends on the keyword, they are targeting, and the competition. And another thing only a few ads slots available on Google's home page.
Why PPC Advertising is Important?
Easy on targeting a particular set of people in ad campaigns.
PPC campaigns, allow anyone to choose the space where they want their ads to get displayed on the internet. This makes your marketing campaigns targeted in a particular place through PPC.
Using re-targeting campaign options, you can reach out to people who showed an interest in your product/service during the search process.
Re-targeting advertising allows you to deliver a specific message for your target customers in prime time which will convert into sale some times.
Work well with other marketing channels.
PPC ads can easily work well with all the other marketing channels to improve your sales.
For example:
You can use dynamic search ad campaigns along with PPC.

PPC advertising can be used to test different keywords that let you know which keywords to target with SEO.

PPC ads make your mobile application to be installed widely.

PPC campaign helps in getting more email sign-ups that will automatically enrich your email marketing campaigns.

It's a great tool for SEO optimization. It may bring more local sales.
Fast way to get visitors to your store.

Easiest the way to bring people into your website.
PPC campaigns can be easily set up in about half an hour or so. It the fastest platform to run your ad campaigns which will to get immediate traffic from it.
In this, your advertiser can easily get your ads on the first page of the SERP with an hour of campaign setup and activation. But the important thing is you to choose your advertiser carefully.
New websites can easily get exposure and visibility. Also, with this, they can generate significant conversions in a short period.
For a company, their ultimate goal will be to generate the highest Return on Investment (ROI) as possible.
When you display your ads in the most relevant and highly ranked online places, then your ads are displayed to most of the users. You need to only pay for your ads when it gets a clicked. Thus, it reduces your costs and calculates your estimated ROI.
Advertisers love PPC advertising because it allows them to change the optimization strategies to improve quality. This increases the ROI for your PPC campaigns.
Open your doors to local customers.
PPC has a high effect on local search. Most of the people are using mobile phones to find the nearside places in their area. If they found your ads that may make them reach your store when they clicked on them. Providing instruction on your ads make them reach you easier.
Statistics state that more than 75% of people are likely to visit a store if they find it in the search results for their keyword.
Conclusion
PPC advertising will suitable for any kind of business whether it's small or medium or big into their customers. If you use PPC ads as a component of your marketing strategies that will bring potential customers at the right time to your business.
Even it allows you to build your online marketing strategies that measure the optimized results of your web. If you maintain and optimize your PPC campaigns frequently, you will get qualified and conversion-oriented traffic for you.